Finally, an update! I swear I'm not neglecting you on purpose, dear millions of readers, it's just that lately life has really gotten in the way. My job still takes a lot of my time (I'm thinking about trying to find a new one but I don't have time for it. I can't win). And I got this new boyfriend that I like to spend time with :)
But I'm still knitting. I'm mostly trying to succeed in my "Everyone gets socks for Christmas this year" mission. But it seems pretty unlikely that I will. It's all right.
So far, I finished
my mom's boyfriend's socks
. I also finished the
Go with the flow socks
that will go to my godmother.
I've been working on the Best of show socks from Socks Socks Socks for my mom: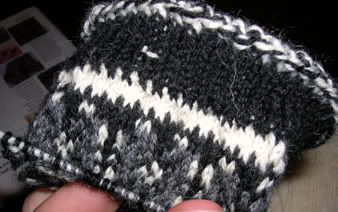 They're taking me quite a bit of time and I'm not used to Fair Isle so there definitely are some mistakes in there, but I know my mom will be happy nonetheless.
I've also started socks with some Regia self-striping yarn for my sister while at the last knitting meet-up.
I also want to make a pair for my godfather (probably using thicker yarn). My boyfriend and my best friend Pierre will get socks or a scarf if I have time to make them. We'll see.
And I've already decided that I'm NOT knitting for Christmas next year. There are so many things that I'd like to make for myself and call me selfish but I know I appreciate the knitting items more than anyone else :)