I'm pretty sure I currently have a Habs fan in my uterus. He sure does kick a lot during the games. Therefore, I decided to make him his very own Habs socks.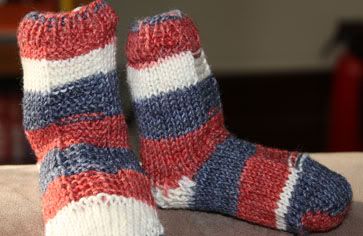 Pattern
:
Garter Stripe Baby Socks
, by Jennifer Hoel
Size
: Newborn, but I used bigger needles so it'll fit him later.
Yarn
: Biscotte & Cie Bambooloo in Go Habs Go (I used the leftovers from an adult pair)
Needles
: US 1 - 2.25 mm
Notes
: There wasn't enough white in the leftovers I used to make a matching pair, but I like the socks anyways. Also, there is a mistake in row 11 of the heel turn in the pattern. You need to leave out the k3tog as there aren't enough stitches for it.
I also decided to cast on for a new project: socks for me! It's been a LONG time since I last made socks (not counting the above baby socks) and I thought I'd go with a Cookie A pattern to get back into it! I chose
Glynis
, from the book Sock Innovation and I'm using yummy purple yarn (Slackford Studio, LLC Stalwart Sock in From Dusk Till Dawn).