I have a new love in the form of a scarf I just finished. It's soft, warm and beautiful, all optimal scarf qualities. I was actually happy when I saw it was cold outside today (and that never happens) because it means I can wear it to go to my doctor appointment.
The good thing about early maternity leave is that it gives me a lot of time to knit and finish projects. The bad thing is that I don't necessarily have someone with me to help me take pictures when I want to. So here is me playing both model and photographer. I did my best: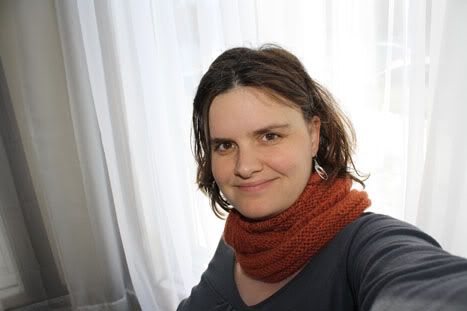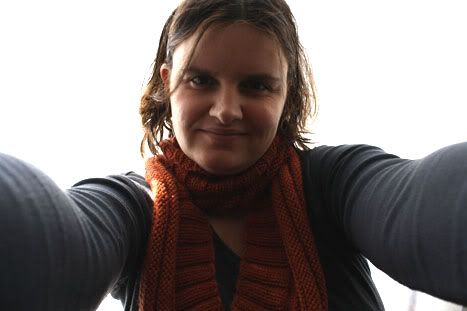 Pattern
:
Infinitude scarf
, by Jeni Chase (I made the larger size)
Yarn
: Berroco Vintage (1 skein and a little bit of the second one)
Needles
: US 8 - 5.0 mm
Notes
: That was a quick knit! I cast-on on Wednesday and finished on Sunday. The only modification I made was an accidental one. You're supposed to purl four rows at one point and I purled only three. I realized it before the next repeat so I kept on purling three for every repeat.
And now, for my pregnancy status: I'm currently 38 weeks and 4 days. I'm still feeling fine and enjoying the end of my pregnancy. At this point, I'd have a hard time predicting when he's going to come, but you can be sure I'll keep you posted.
And I want to thank my friend
Robyn
again for the lovely gifts she brought me last week (the duckie and blanket are only part of it)! She came to my house for a lovely knitting afternoon and I got to meet her cute son Quentin. I love seeing my knitting friends, we always have a good time.
I was a bad blogger and didn't take pics during the visit, but she did and you can see them
in her post
.