Pregnancy status: I will be 39 weeks tomorrow! I've had bad cramps/contractions but nothing regular or anything. I'm feeling good today and don't think today will be his birthday, though you never know. My suitcase is ready, laundry is done, the house is as clean as it'll be, so now I can relax and knit, knit, knit.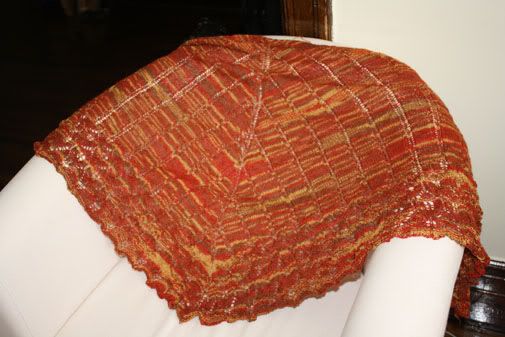 I'm happy to report that I finished knitting
the blob
! I only need to weave in two ends and to block it. I don't have blocking wires though, but I'll see what I can do. If I can't do it without, I'll order some and block it later. I think it already looks fabulous though, don't you think?
Thanks again
Tara
for saving my life with that extra ball of yarn!
Next on the list: weaving all the ends of my
Peapod
sweater and finishing the
This end up baby vest
. I'm on a roll! After that, I think I hear some sock patterns calling my name, but if baby gets here, I may not have much time for them!