Pregnancy status: 39 weeks and 1 day! There's a lot of snow today so I told baby I'd prefer if he didn't show up today. I think he'll listen :)
I have THREE, count 'em THREE, FOs to share today. That means I've finished SEVEN projects in February so far (and there's a good chance there's going to be a #8). That's a lot for me. Do you know how many projects I finished in all of 2010? Eight. :)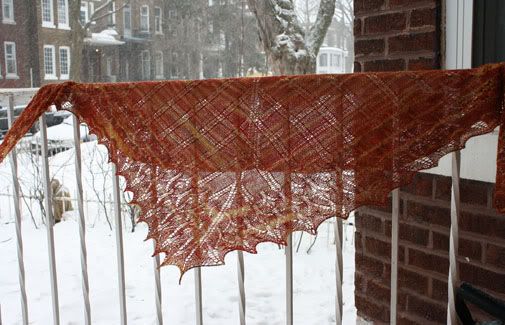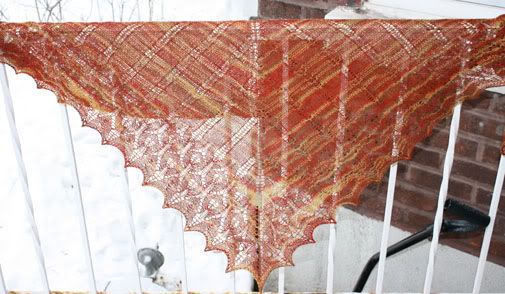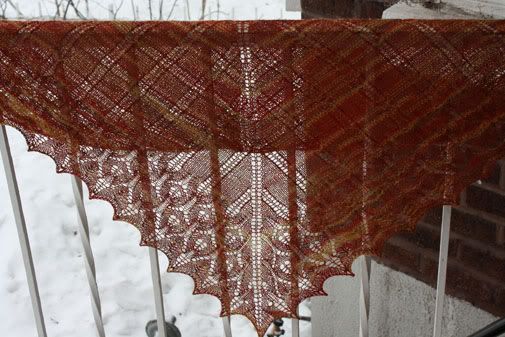 Pattern
:
Icarus shawl
by Miriam L. Felton
Yarn
: Knit Picks Shimmer Hand Dyed Lace Yarn in Maple Leaf
Needles
: US 3 - 3.25 mm
Notes
: I love it. LOVE with a capital L (and O and V and E). It's so light and pretty and it was worth all the work. I don't wear many shawls but it works well as a scarf so I may use it that way, especially when the weather gets a little warmer.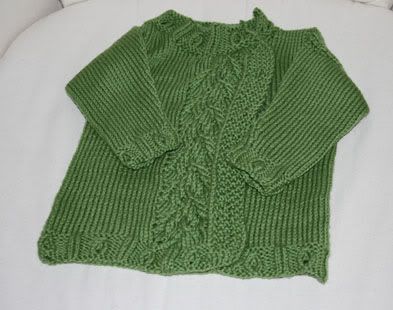 Pattern
:
Pea Pod Baby Set
, by Kate Gilbert
Size
: 6 months
Yarn
: Knit Picks Swish DK in Asparagus (3 skeins)
Needles
: US 5 - 3.75
Notes
: Well my finishing skills leave a lot to be desired, but believe it or not, it is getting better. And I think it can only get better with practice, right? I love the Swish DK and I can't believe how much softer it gets after it's washed. I will definitely use it again.
Pattern
:
Very Berry Bonnet
, by Cara B.
Size
: 0-3 months
Yarn
: Red Heart Buttercup
Needles
: US 9 - 5.5 mm
Notes
: I had some leftovers after I made my baby pod so I decided to knit this hat. It was a very quick knit, started and finished on the same day. I added the two pompoms, I think it makes it even cuter. I did not check gauge so it's bigger than I wanted it but I figured it'll fit him eventually.