I am back with the Weekly WIP Report after taking a week off due to sheer laziness. For the past week, I've been pretty obsessed with
Coachella
.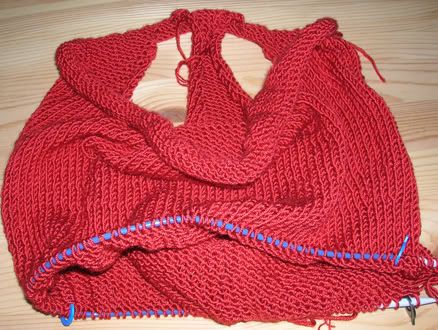 You gotta love a top that doesn't require any seaming. I put it on scrap yarn and it looks like it will fit. I'm giving myself two weeks (max!) to finish it so I can wear it before summer turns into fall.
I also cast on for a new pair of socks.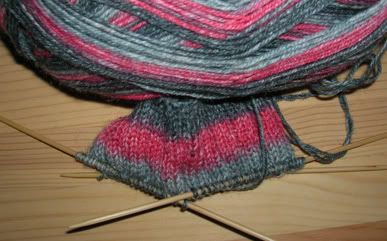 No pattern, just a simple 3X1 rib on the leg and foot. They're going to be for my mom so I have to make them quite a bit bigger than when I make socks for myself. I'm using Austermann Step, which I love.
I had planned on making
Cablenet
as my next socks but I opted for a simple pair instead because I really want to complete a pair of socks for the first month of
SAM4
and I'm not sure I'll be able to finish cabled socks in one month. But I do see Cablenet in my future.
Oh and have you seen the
preview for the fall 2007 issue of Interweave Knits
? It looks fabulous. I'm in love with the cover pattern.