Hello everyone,
You all remember me? I'm Caroline, the once-a-month blogger!
I am happy to announce that I got my knitting mojo back. More specifically, I decided a few weeks ago that I would finish my
Icarus shawl
no matter what. So I put my other projects aside and started knitting. And I knit and knit and knit, those rows that wouldn't end (seriously, I must have a million stitches on my needles right now). I think I have about 6 rows left and then I stopped knitting. Yep, I ran out of yarn! AND the colourway I'm using is discontinued. Oh joy. So that leaves me with three choices.
1. Find someone who has some leftovers or a whole skein to sell (Knit Picks Shimmer in Maple Leaf, dye lot 1982)
2. Frog to the lifeline I (thankfully) added before the last repeat of the main body chart and reknit the border chart without that last repeat.
3. Hide the shawl under my bed and forget it ever existed.
I'm currently working on #1 and crossing my fingers hoping I'll find the yarn, because I don't think I have the courage for #2 and would most likely skip directly to choice #3.
I haven't knit a stitch since I ran out of yarn last weekend. I have two baby projects that I could work on (and I should... I feel March is going to be here soon). I don't feel like knitting them though. I want to make hats and mittens and socks. So we'll see. I really wanted to finish a project before casting on for a new one, and I totally would have had I not ran out of stupid yarn.
Ok, I know I said stupid yarn but I didn't really mean it. I'm sorry, yarn, I love you.
And because I've never posted one, here's a pic of me in my pregnant state (sorry it's blurry but it's all I have).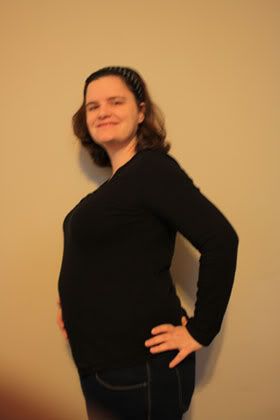 I don't have many pics of me right now because I'm struggling a bit with body image. I was 22 weeks on that pic, I'm now almost 25 weeks. I'll try to take a new picture sometime soon.