We need a change. We need to change the clocks so that it has 34 hours insteahttp://www.blogger.com/img/blank.gifd of just 24.
I need more time to do everything I want!
Most of my days consist of taking care of a six month old and trying to keep an appearance of cleansiness in my house.
I recently started working out again. From home, because I don't have time for the gym. I'm currently doing the
one hundred pushups
challenge (doing them the sissy way because I can't do real pushups just yet) and I also bought Jillian Michaels' 30 Day Shred DVD. It is kicking.my.butt. I never really liked workout DVDs before because I found they were always too easy, but that one isn't, noooooooooo sir.
Julien and I started our mommy and baby swimming classes. We both love it. I'm already looking forward to next Monday to go again.
The same day of the swimming class, I have a photography class. I like it but we have a lot of assignements. It's going to be worth it though, because I really want to know how to use the manual mode of my camera.
Oh yeah, and there's knitting. I manage to find a bit of time for it, but there are too many things I want to make (and too much yarn I want to buy) and not enough time to do it all. I have 3-4 projects going right now and I'm already dreaming of the next 2-3 I want to cast on for. I have a problem.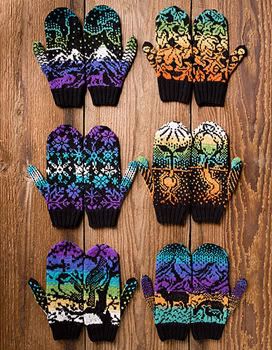 And I just received the yarn to make these (picture from Ravelry). *sigh* I may have time to make them sometime in 2014...