I've been on an organizing kick lately. After buying an organizer for my interchangeable set on Etsy, I decided I wanted one for my fixed circulars as well as for my DPNs too. So I found ones that I liked on Etsy and I bought them.

(For circular needles)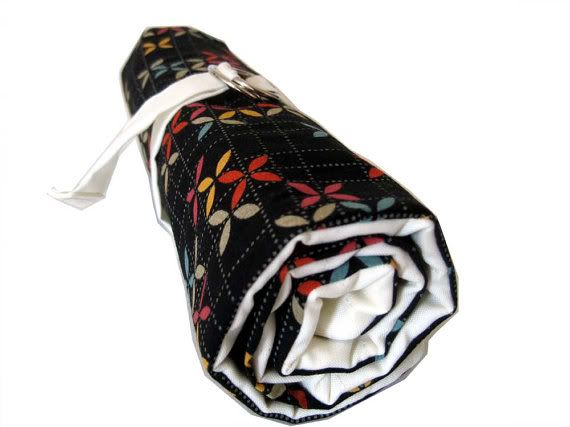 (For DPNs)
I got them from
sarahkincheloe
on Etsy (the pictures are from her too). I really like them and now my needles are all organized and I know what I have and what I still need to get to complete my collection.
Speaking of getting knitting stuff, I was bad. Really bad. Last week, I did something I had never done before. I ordered from Knit Picks twice. In the same week.
Now let me explain. I had a 28 $ gift certificate and I wanted yarn to make Julien a Christmas stocking. And last Monday, there was a code circulating online that gave you 15 % off your purchase at Knit Picks (it was good on that day only). So I figured it was a good time to order. With the certificate and the discount, my 110 $ order came down to 67 $, including shipping (ok, I may have gotten a little more than the yarn I needed for the stocking).
THEN, two days after that order, Knit Picks came out with new yarns (angora, people!) and new colours for their Stroll sock yarn line. I was excited, but I could resist, no problem. Until I saw they also rerelased the
Woodland Winter Mittens kit
, that I love and had sold out oh-so-quickly the last time. And they have a new version with bright colours too. I just had to get it. So I did (and I may have added some of the new Stroll colours too).
The good news for YOU, is that I'll have some yarn porn to share soon. :)