Something took control of my mind, my body (and my credit card) and is making me buy yarn, yarn, and more yarn.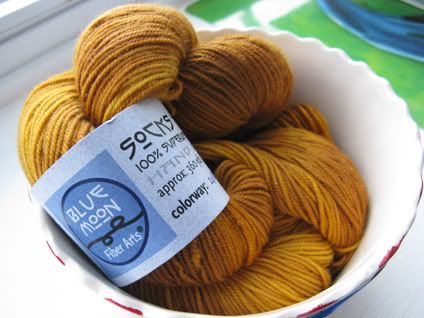 I received this new pretty this morning. BMFA Socks that Rock lightweight in 24 Karat. I was planning on using it for my yellow Nancy Bush mystery sock, but I'll be using the Tanis Fiber Arts I got last week instead. So STR will become something else, later.
Oh and I did order from Knitpicks. A new set of DPNs to replace the ones that have mysteriously disappeared, SIX different colours of sock yarn and three skeins of Palette in three different colours for a pair of mittens I want to make.
I ordered last night and got an email this morning saying it's shipped already! Talk about quick!
I'm enjoying all the shopping, but it's enough now. I need to stop the madness. No more sock yarn purchases until I have knit seven pairs. I think I can do it. I already have one on the needles. After that, only six more to go! ;)