Two socks on two circs!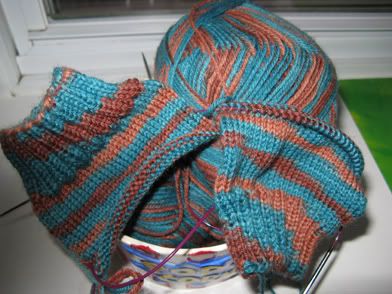 I finally figured it out! It took me a while to get used to the technique, but all is well now and I'm happily knitting. I was also pleased to notice that the yarn is not pooling (so far), it's striping! They're not neat stripes like the ones you get with self-striping yarn, they're more like zebra-stripes, and who knows if it'll keep doing that for the whole socks, but right now I'm happy with the way they're coming out.
I think I deserve a little reward for trying again after my first failed attempt, don't you think? Yeah, I thought so too.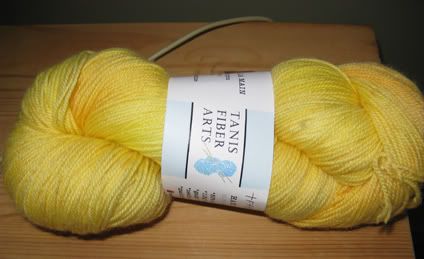 Tanis Fibert Arts fingering weight in Buttercup. I know, I know, I actually ordered yellow yarn from BMFA for the Nancy Bush yellow mystery sock (I'm still waiting for it btw), but I couldn't resist. I kept thinking about it, which is proof that I needed it, right?
I'm in a stash enhancement kind of mood, especially since I got rid of a lot of old acrylic I knew I'd never use. So now I have SPACE! And I need to fill it. With yarn. Lots of yarn.
I have a big order (well big for me) in my Knitpicks cart, I just need to make up my mind and press the order button... I'm sure I will, eventually.