I finished the September 09 Mystery Sock: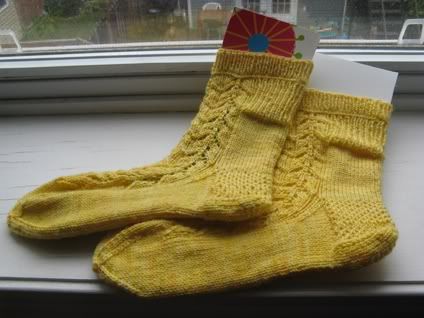 Pattern
:
Fox Faces socks aka September 09 Mystery Sock
, by Nancy Bush
Yarn
: Tanis Fiber Arts, fingering weight (I LOVE THAT YARN)
Needles
: 2.25 mm DPNs
Notes
: Knit two at a time on two sets of DPNs. I made the leg a bit shorter (5 pattern repeats instead of 7).
I'm very happy with the socks and knitting a mystery pattern definitely was a challenge. I was scared I wouldn't like the result, but fortunately, I do. But I knew that with Nancy Bush, I would probably like it.
I cast on for a new project, that I wasn't able to photograph properly. I did my best: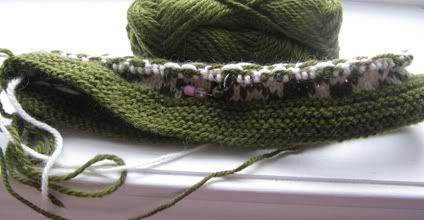 Pattern is
Flora
and I'm using leftovers from my
Fake Isle Hat
. I'm making it for my aunt who is currently battling breast cancer. I already made her a hat
Parrotfish
during the summer, but I want to knit her something warmer.
I'm also trying to decide on my new sock project for
Sockdown October
. In October, we can knit:
a) Holiday stockings
b) Man socks (it has to be designed specifically for a man)
c) Socks for a Cause (proceeds from the sale of the pattern has to go to a cause)
d) Any sock designed by the designer of the month, Jeannie Cartmel
My problem is that I don't think I'll have time to knit more than one pair and I have too many options.
I want to make the
Falling Snow Stocking
. I like the
Paul Atwell socks
(man socks). I also like
Having Hope
(proceeds donated to cancer research). And I like a couple of Jeannie Cartmel patterns such as
Starflower
,
Magic Mirror
and
Summer Sliding
.
I don't know which one to choose. Yesterday, Having Hope was winning. Today, it's the holiday stocking. I have no idea. I also want to start a pair of Go Habs Go socks to knit during the Habs games (that won't be part of the Sockdown challenge). Stay tuned!