In the... five years or so I've been knitting, I've fallen in love with many yarns. Sometimes it was love at first sight, or at first touch, other times, it started with a like and slowly transformed itself into love. Of course, no matter how much I've loved them, I could never remain faithful, but the yarns didn't mind sharing me so all was good.
But now. Now I think I found THE ONE. I am passionately, madly in love with Tanis Fiber Arts' sock yarn, so much so that I need to declare my love publicly. I LOVE YOU YELLOW YARN!
(As much as I love it, I know I won't be faithful to this one either. Hey, I'm only human).
I've been working on the Nancy Bush mystery sock since we got the first clue on September 1st. The first clue was short and easy (and it included a braid!).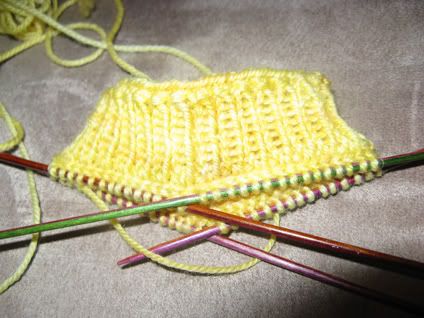 I was able to knit clue #1 on both socks in a couple of days. So I was really happy when we got clue #2 on September 8.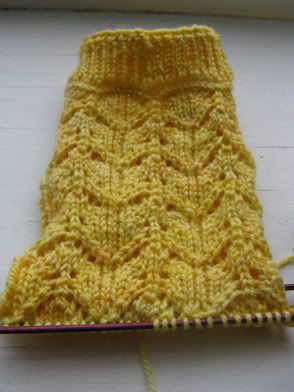 Clue #2 is finished on sock #1, I'll work on sock #2 on the weekend. I'm loving the sock! The only modification I've made so far is that I only knit 5 pattern repeats instead of 7.
I can't wait to see clue #3 (I think we'll turn the heel). This mystery thing is fun!
ETA: I forgot to take a pic of the back of the sock. It's a K1P1 rib for the first three pattern repeats and then it switches to stockinette for four repeats. Since I'm making mine shorter, I did the rib for two repeats and stockinette for three. I think it looks neat.