So it looks like the key to getting back my knitting mojo was simply to not have access to any knitting for a few weeks. Since I got back from my trip, I've been knitting and knitting and knitting.
Or maybe it's simply the fall weather that is inspiring me? I don't know. But I know the thought of a warm scarf makes me very happy. This past week, I've been working exclusively on my Woven Cables scarf.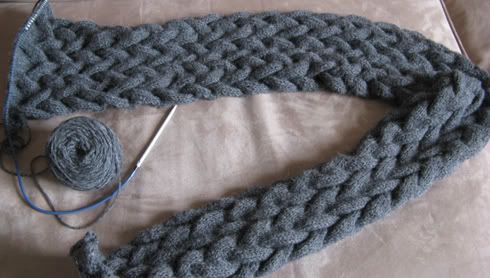 It's going to be a great scarf. In a neutral colour, so I'll be able to wear it with any hat and mittens. And soft. And warm. Yummy.
And just because I had not posted a pic of it yet, here's one of the Montego Bay scarf that I was supposed to bring with me during my trip but that I stupidly forgot.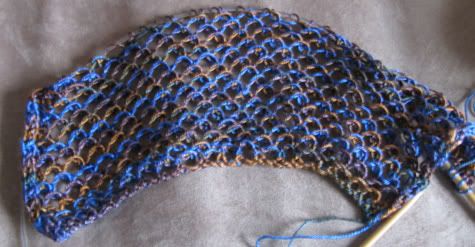 I didn't swatch and I should have, cause I think it's way too wide. I'll frog it and start again.
I'm itching to start a new pair of socks and I think I know exactly what I want to make. Stay tuned!