This is going to be a fun post! First, I have a brand new FO!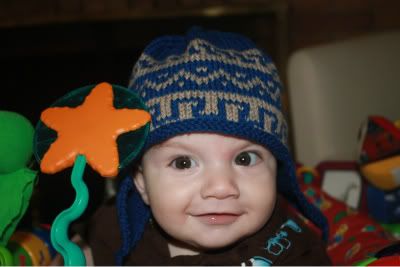 Pattern
:
Wayna Picchu Earflap Hat
, by Nichole Reese
Size
: M (1-3 years old)
Yarn
: Knit Picks Stroll Sport in Winter Night (MC) and Mink Heather (CC)
Needles
: US 5 - 3.75 mm circular needles (I tried magic loop for the first time!)
Mods
: I did a regular cast-on and I didn't do the crochet finishing thing because I can't crochet to save my life. Because of that, the hat curls a little but it's not too bad and I still like it.
Julien seems to like it much more than the pumpkin hat I made him. I absolutely love this pattern and I've already started another one, reversing the MC and CC.
Ok and now the yarn porn. As most of you must know, Ariadne will be closing its door (I believe it'll be this week actually). I'm very sad about that because I loved the store. But of course, now there's a closing sale going on and I just had to go check it out. I went a couple of weeks ago and I was pretty reasonnable. I got:

Six skeins of Cascade 220 Heathers in whatever this colour is.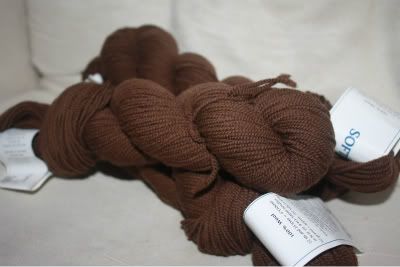 Four skeins of Reynolds Soft Sea Wool in brown.
Then I got home and kept thinking I should have gotten the purple Cascade 220 also. So I went back last week and got:

Three skeins of Cascade 220 in purple.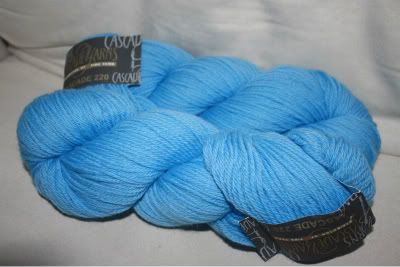 Two skeins of Cascade 220 in blue.
Of course, now I keep thinking I should have also bought the green, but oh well. I gotta leave some for others. :)