Ok so that two socks on two circs thing? I don't get it. I have the instructions with the pretty pictures but it's just not working out. I am not giving up though, I will master the technique. Eventually. In the meantime, I picked up my lovely bamboo DPNs and some Fleece Artist merino and got started on Charlene Schurch's Ripple Weave socks from the fall 06 issue of Vogue Knitting. I'm loving knitting them even though I'm not sure the yarn is right for the pattern.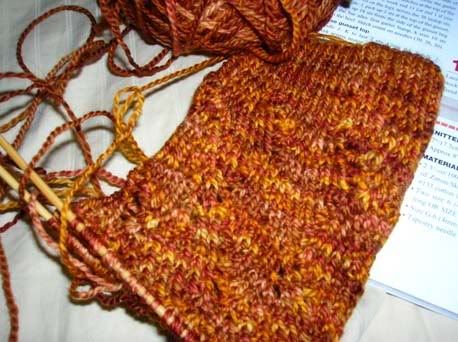 I love the yarn though. I'll keep on working the pattern anyways (it does show a little bit more "in person" than on the picture). I'll probably make another pair in a solid colour someday.
I went to
Effiloché
last night and I found out that the pattern is not a good one to bring to knitting meet-ups. I'm already not much of a talker, especially with people I don't know (and there was no one I knew there!), but it's even worse when I have to concentrate on a chart.
Oh and because I can't go to the LYS without buying something: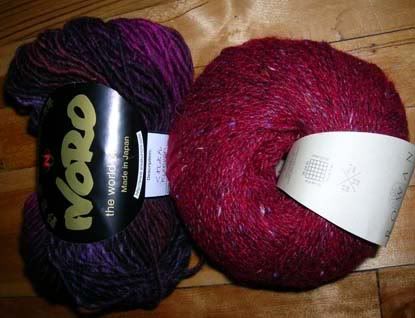 I was good, wasn't I? Only two skeins and no sock yarn! The Noro will be made into
Calorimetry
and I want to make the
Shedir hat
(links to PDF file) with the Rowan felted tweed. I fell in love with the hat after seeing a bunch of them on
Craftster
.
Unfortunately, I realized when I got home that I need 16" 3.25mm circular needles for the hat. I thought about going to another LYS today that's close to my gym so I could get some. But the two socks on two circs experience made me realize one thing: I'm in LOVE with the Knitpicks needles. So I ordered the 3.25mm needles. Of course, it would have been stupid to pay 8$ shipping on a 4.99$ needle, so I decided to get the whole Options set! What? I deserve them, I work hard. :p I also added three colour cards to the lot (Swish Superwash, Main Line and Shine worsted), just because I may order some in the future and I want to have a good idea of the colours. I am *so* looking forwards to receiving that package, even though there won't be any yarn in it.