Today is the last day of 2009 and I still haven't written my resolutions post (sorry about that, it'll be done in the next couple of days).
I do have a FO to share though: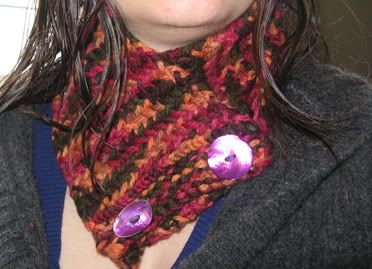 (Sorry about the wet hair)
Pattern:
Herringbone Neck Warmer
, by Craig Rosenfeld
Yarn
: Malabrigo Chunky (YUM!)
Needles
: US 10 / 6.0 mm
Mods
: I used smaller needles and made it shorter since I was running out of yarn. I stopped knitting at 21" (instead of 28") and then made the buttonband. I blocked it a little longer but I'm happy I didn't knit it to 28" or it would have been too long.
This was a very quick knit, even for me. It took a week to knit and that's only because I didn't knit every day. Super easy.
Happy New Year everyone! Have fun celebrating tonight, but be safe!