Did you see the title of this blog post? I don't want any of you to panick, but there are only ten (10!) days left until Christmas. How is your gift knitting going? I'm pretty optimistic that I'll finish mine in time. My Habs socks are pretty much done. I only have about half the toe + grafting and weaving to do. My guess is that I'll finish it tomorrow during the game. As for my mom's socks, I'm almost done with the leg on sock #2. I can easily do heel + foot + toe in 12 days. Right?
Now, as promised, I got a couple of pictures from yesterday's little knitting meetup with the lovely
Tara
,
Robyn
and
Kadi
. I had such a lovely time. I hadn't knit with other people in a long time and I had forgotten how fun it can be.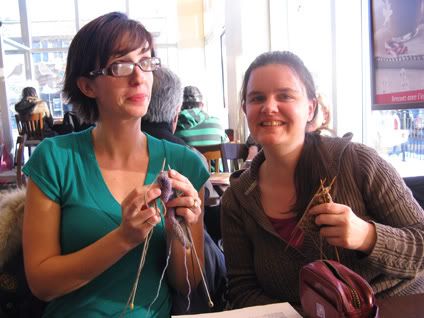 Tara and myself, finally meeting for the first time. And yes, it does look like I have a double chin. I shall print this picture and tape it to my alarm clock so I'm always motivated to go to the gym in the morning.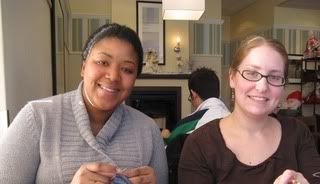 Kadi and Robyn. I hadn't seen them in such a LONG time! And Robyn got us the loveliest gift of beautiful soaps, knitting needles and some DPN Wip tubes. I love everything, thank you so much again Robyn!
(Edited to add: Sorry about the different pic sizes. I had trouble with resizing!)
I also got some yarn. Tara and I's excuse for finally meeting each other was that we shared shipping on a Knitpicks order. I'll show you the yarn tomorrow, but let me tell you, it's beautiful. I also received my
Robyn's nest
December sock club yarn, which is equally beautiful. I'll post pics of the Knitpicks yarn sometime this week. I don't know if I can post the sock club yarn yet though.
And now, today's pattern!
December 13
Pattern
:
Stashbuster Spirals
by Janine Hempy
This pattern is great if you have lots of leftover sock yarn and don't know what to do with it.
You can find the pattern
on
this page
.