Christmas is almost here! Weeeee! I only have one day left to work (I do go back on the 27th though, no week-long vacation for moi!). I brought homemade cookies to the office today and they were a hit. Life is good.
I also have a FO. I'm not 100% happy about it, but it's ok. They definitely look better in person.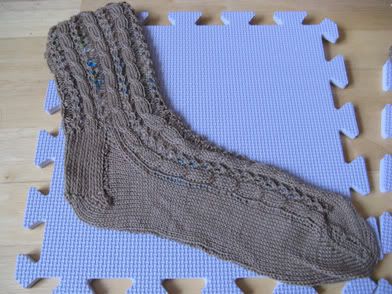 The one on the right looks weird! They really do look the same in person, I promise.
Pattern
:
Cabled Lace socks
, by Chrissy Gardiner
Yarn
: Knitpicks Stroll in Buckskin
Needles
: 2.75mm
Donedonedonedonedonedonedone!
December 22Pattern
:
Having Hope
, by Diane Mulholland
Christmas is a time for generosity and giving. Proceeds from sales of this beautiful pattern are donated to Cancer Research.
You can find it
for sale (4,95 $ US)
on this page
.