I was telling my coworker this morning about the fact that I spent part of the weekend shopping for gifts, wrapping gifts and putting up decorations. His answer: "Already? Our tree isn't even up yet!"
What do you mean already? Dude, Christmas is in 11 days! I don't think he has realized it yet. Also, good news: this week is my last complete, 5-day week of 2009! I'll be working on the 21, 22, 23, then on the 27, 28 and 29. Other than that I'm off (until January 4th that is).
Ok, so I promised some yarn pics and here they are. It isn't much (only two!), but still, it's yarn.
First, the beautiful laceweight I got from Knit Picks.

Knit Picks Gloss, in Bordeaux. I only photographed one skein, but I got seven of them! I'm thinking of using them to make the
Honeybee Cardigan
, what do you think? Robyn and Tara tried to convince me to choose this as a Ravelympic project, but I just don't think I can pull it off in two weeks. But we'll see, I may feel
crazy
adventurous by then.
I also got in my order a set of 2.25 Harmony DPNs (my favourites in the world) and some size 5 Zephyr tips for my interchangeable set. I've tried the nickel-plated tips (love) and the Harmony tips (love) so I figured I might as well try these too.
I also got, from
Robyn's nest
, the following sock yarn: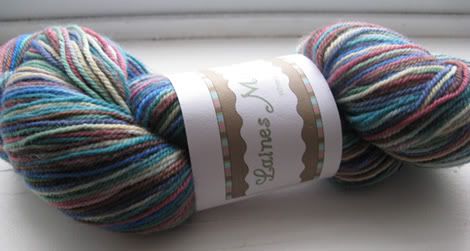 Laines Magnifiques Champion BFL Superwash Sock, from Robyn's December sock club. I hesitated before purchasing it because I was on a sock yarn diet, but since Robyn is taking a break from her sock club in 2010, I couldn't resist. And I don't regret it, because I love the yarn and the pattern is so pretty! Speaking of which...
December 14
Pattern
:
Possibility
, by Robyn Grauer
A beautiful pattern that looks good with handpainted yarn (Zeus knows that's not always easy to find).
You can find it
for 4,95 $ on Ravelry!
Stay tuned tomorrow for a brand new FO!