My SP10 host
Shelby
asked participants to post their favourite WIP so here I go. I just started a couple of new projects and this one is my new favourite: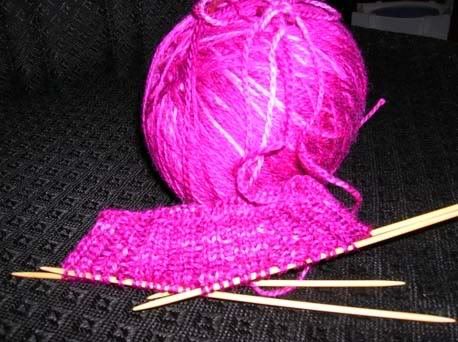 The pattern is the Winding Cable Socks, I got it when I subscribed to the
KnitsNews
newsletter. I love it because I'm using my new favourite sock yarn ever: superwash merino wool from
Fearless Fibers
. This one is the raspberry colourway. I liked it a lot when I saw it online, I loved it when I received the yarn and I want to marry it now that I've started knitting with it. It's the softest sock yarn I've ever used.
I've also recently cast on for
Isabella
with the black cotton I had in my mini-stash. I don't have a picture because I left it at my boyfriend's. I'm not sure I'll keep working on it anyways. I had to go down two needle sizes to get gauge, which means I have to use size 1 (2.5mm) needles. It looks like it'll take forever to finish.
I was supposed to go to a knitting meetup tonight but I ended up not being able to make it. I'm pretty bummed as the yarn faeries from
Ariadne
were supposed to bring some Lorna's Lace. I've never worked with that yarn and I'm sure I wouldn't have been able to resist. I guess my wallet is happy :)