I haven't been feeling well this week. Everyone is sick around me so I may have caught something. I don't know. I'm just *really* looking forward to the weekend (I'm going to my mom's, yay!)
I received an email from my Secret Pal (HELLO SECRET PAL!!!). She said "I hope you like alpaca". I have a feeling she'll be a great pal. ;)
I've been knitting quite a bit, mostly on the ripple weave socks: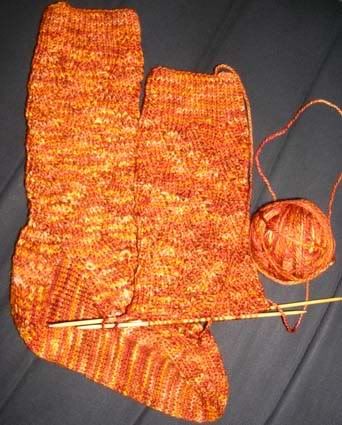 (Colour is really bad on that pic). I can't wait till I'm done, especially since I'll try the Fearless Fiber yarn I ordered a while ago next.I'm almost decided on a pattern too.
I was looking through my sort-of-stash and I decided I needed to make something out of the cotton I have. I'm really liking
Isabella
. I may wait until I get the new Vogue knitting though. Have you seen the
preview?
There are cute things in there...
Ok. Now I'm off to start the seaming on the blue cardigan. Yes, I'm going to seam. It's time. I just hope I don't ruin the thing...