I am back from New York! I've actually been back since Tuesday night, I just haven't had the time to blog. I'll also mention that I haven't knit a stitch in more than a week! OMG! Crazy. I should be getting back into it tonight since we're planning on renting a movie so I'll pick my sock back up. No worries! I had brought yarn in New York, but I didn't touch it the whole time I was there.
Ok, so I'm sure you're all dying to know about the trip, right? It was A LOT of fun! I love New York! It's a great city and I definitely plan on going back. We left early Friday morning and we were at Newark Airport quite early (I think around 9). We also got very lucky because our room was ready when we got to the hotel.
Speaking of which, if any of you plan on going to NYC, I could not recommend our hotel more. Its name is pretty straight forward: The Hotel at Times Square. It's part of the
Apple Core Hotels
mini-chain. The price is right (we paid 150$ a night), the rooms are nice (though not luxurious, but we didn't care). The free breakfast was good. There was free internet as well as a gym (that I did not use). And it was a 5 minutes walk to Times Square! The location was excellent. I'd definitely stay there again!
The first thing I noticed when we got out of Penn station? The yellow cabs of course! They were everywhere and I really felt like I was indeed in New York!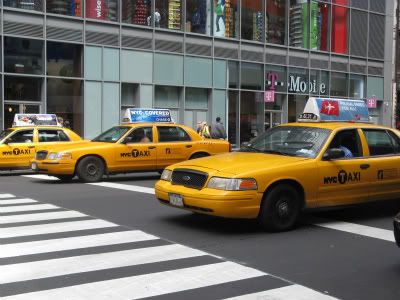 After we found our hotel and took a shower, we went to Central Park. I loved it, it's so huge and beautiful!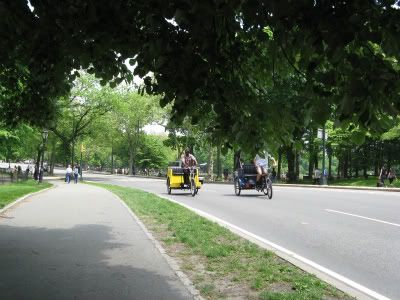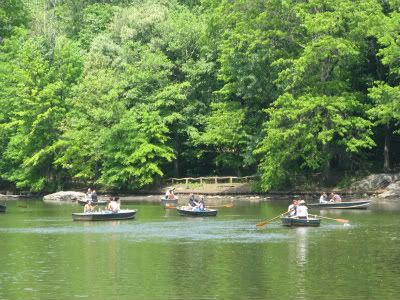 I really wanted to find Strawberry field to see the John Lennon memorial.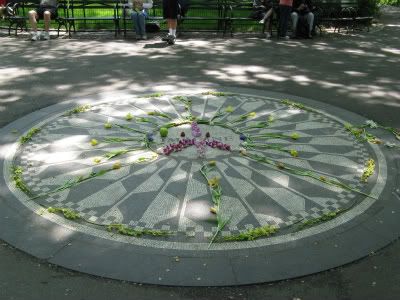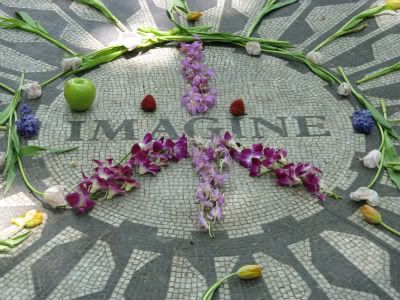 We had lunch in a diner and I ordered a shrimp roll. It was huge! But very good.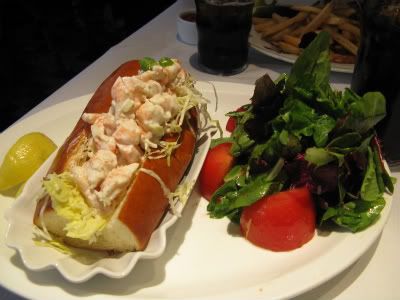 I think we stayed in Central Park for most of the afternoon. In the evening, we went for a walk and we saw the famous Flat iron building.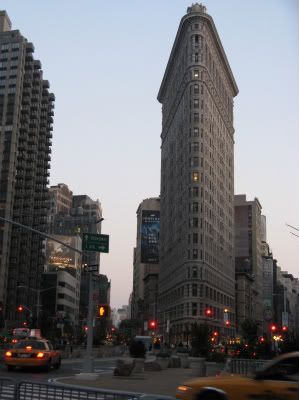 Then we went to the Empire State Building and went up. It was great to see all the lights from up there (I don't have any good pics though).
On Saturday, we took the subway. We did ok, but their subway is more confusing than ours, that's for sure. We wanted to go to Canal Street but we somehow ended up in Brooklyn. Oops!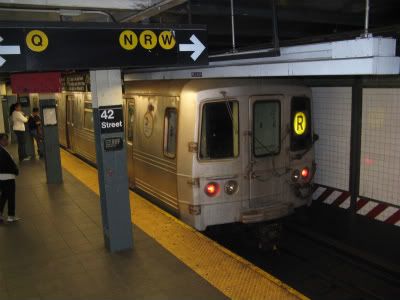 We got back and found the right station. We walked for a while and saw city hall. Then we sat near a fountain and Chris had fun taking pictures of a bird (he likes taking bird pics, go figure).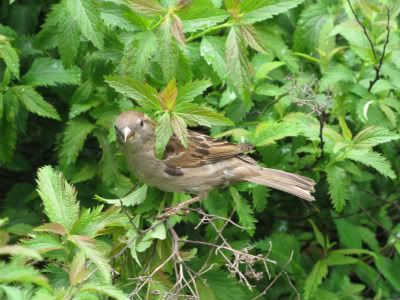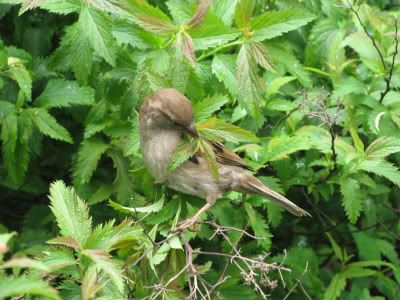 And I had fun taking weird fountain pics.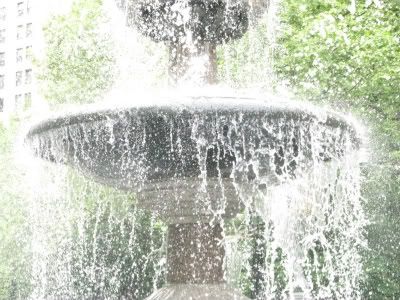 Then we walked on the Brooklyn Bridge, which was very cool. We only walked half of it though, and then we decided to get back.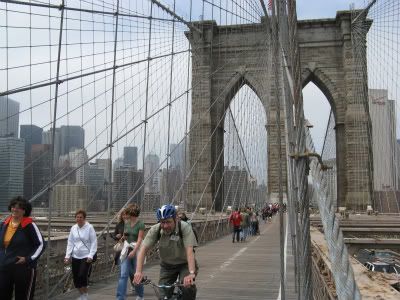 After that, we saw a church where there was a memorial for the victims of 9/11, and then we went to Ground Zero.
We walked by the river and saw the Statue of Liberty. That's the closest we got though. We didn't really feel like going so we just looked at it from afar.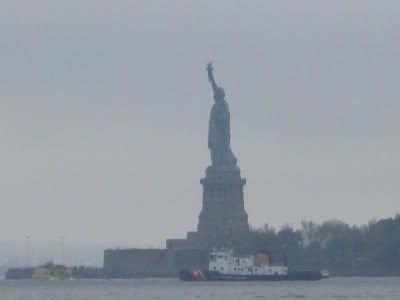 Then, Chris really wanted to go to Coney Island, so we took the metro and went. It was a loooong ride, but we had so much fun there it was totally worth it!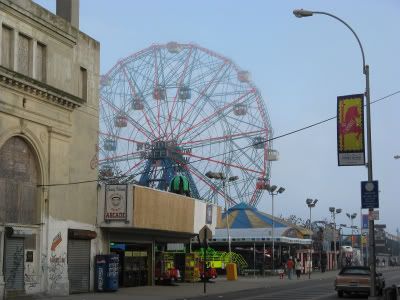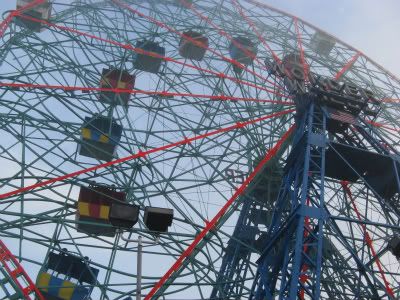 We saw a freaky sideshow with flame eaters, contorsionists and all that jazz. It was fun.
Then we went on the scariest rollercoaster ever. It was old and just scary. I sort of enjoyed it but I screamed a lot.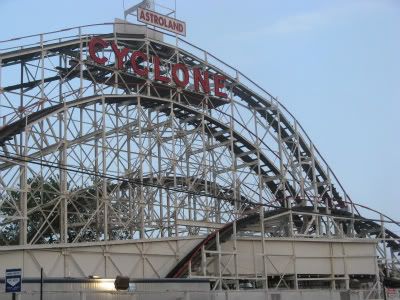 (It doesn't look scary? Trust me, it was.)
We were so exhausted that night we actually got back to our room pretty early, though we did see Times Square at night and it was something!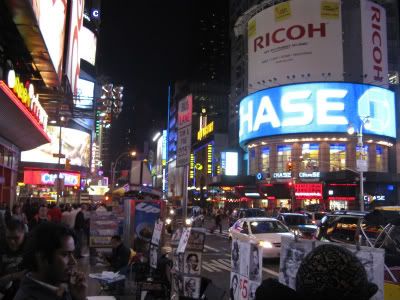 We spent a good part of Sunday at the American Museum of Natural History where we saw DINOSAURS! Or dinosaur skeletons anyways. Very impressive. We also saw a meteorite and lots of gems and precious stones.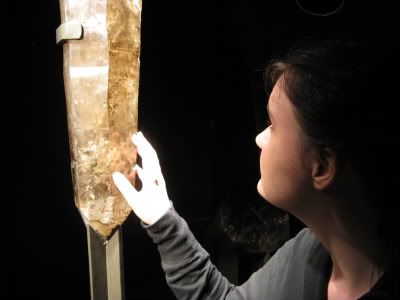 Ooooh shiny!
That evening we went to a comedy club called Ha! where I drank champagne (hey, why not?) and laughed a lot.
Monday was the best day ever. In the morning, we went to see the UN, and then we walked on 5th avenue and saw the Mac Store as well as FAO Schwarz! I got to make my childhood dream come true by playing on the big piano!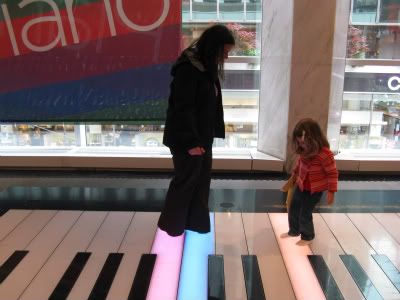 Then I went to the Harry Potter section where I couldn't resist trying on the Sorting Hat.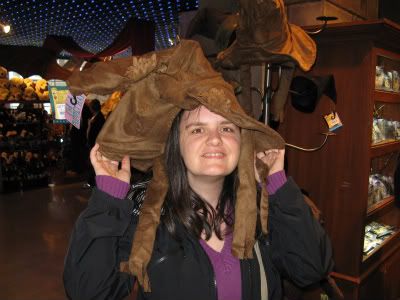 In the afternoon, we went to wait in line because we had tickets to see THE DAILY SHOW WITH JON STEWART! I was so excited! I love Jon Stewart.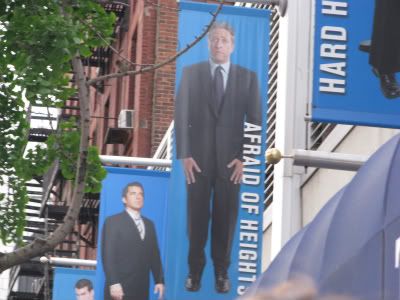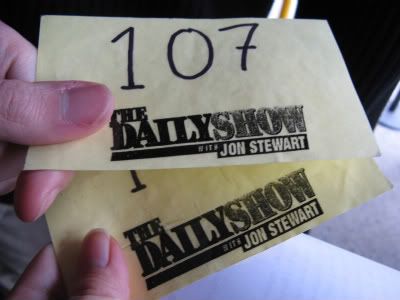 We waited for a long time. Think three hours. I had brought things to read and music, but Chris and I just spent most of the time chatting. Even though we were one of the first in line, we didn't get in first because they also had a VIP line (that was apparently for people who hadn't managed to get in the day before).
When we finally got in, I was pretty happy with our seats. We were on the side, but very close to Jon's desk and could see very well because there were no cameras in front of us (except during the interview with the guest). I was hoping John Oliver would be the correspondant that day, but he wasn't there. Wyatt Cenac was though and he was very funny.
I was very impressed with Jon Stewart. He was super nice and answered people's questions before the show. He was very professional during the taping, they did the whole thing in one take! The guest was Sarah Fisher, a race car driver. I didn't know her.
Stewart also did a toss with Stephen Colbert at the end of the show, which was great! He chatted with him a bit during commercial and then they did their thing and it was very funny. We just loved that whole day!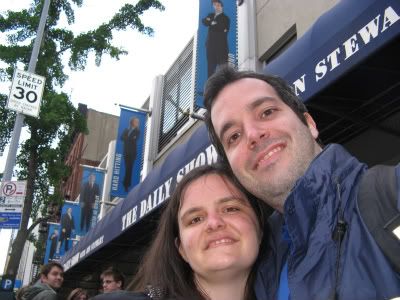 Tuesday was our last day and the weather was gorgeous so we went to Central Park again and spent the day in the sun.
Then we went on 5th avenue and we saw the Rockefeller Center.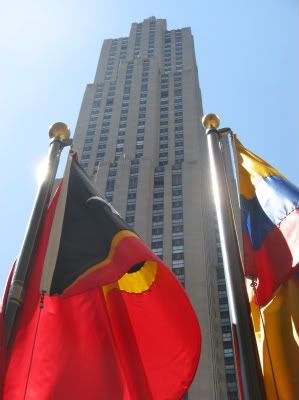 After that we had about 2 hours to spare before we had to leave for the airport and we noticed TGI Friday had 3$ margaritas so we went in there. And we got carded! Woohoo!
I was very sad to come back. It all went by so quickly. We will go back for sure!