I've been a bad blogger and haven't updated much. I'm sorry about that, life really got in the way. I've been working a lot and working out and preparing my trip to NYC (FRIDAY!!!!). And knitting! I'm back into it and my
Phlox socks
are coming along nicely. I don't think I'll have them finished by the time I leave like I wanted though.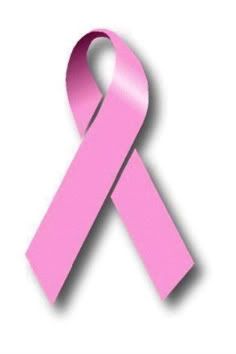 Pink ribbon. You all know what that means, right? Breast cancer awareness. Like many people, I have been indirectly affected by it. My paternal grandmother was diagnosed with breast cancer at the age of 42. So young. Thank God she did survive and had a good long life (she died two years ago and she was in her 80's). She had her left breast AND arm amputated though.
Well in March of this year, the disease striked again. This time, it touched my mom's sister, who is in her early 50's (I think 53). She should start her chemo treatments soon. I saw her yesterday and told her I'd knit her some hats.
So now I need suggestions. Hat patterns, yarn to use. I have no idea how long her treatments are going to take so I think I'll make her a couple of lighter hat (cotton maybe?) and a couple of warmer ones. We'll see.
I think I want to make
this one
first. What do you think?