Well here are the embossed leaves socks: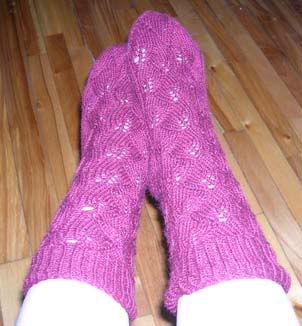 I love them.
As for the second pair, well... One sock is done. The other one only has a cuff. I'm pretty sure I'm not going to make it. Damn me for trying to have a life while doing this Olympic thing ;) I'm still going to try to make it, but seeing as I have a pretty busy weekend planned, I doubt it's going to work.
I was going to post a pic of my progress but my batteries died right after I took the embossed leaves socks picture. Batteries are charging right now so I'll be able to take a pic later.
Back to the knitting. Oh yeah, and GO CANADA! Gold medal in men's curling today, yay!