Before I start, I must say this: THANK GOD THE HABS WON! I would have been so pissed if they had lost after leading 3-0!
The only WIP I feel like sharing this week is my newest one: Eunny Jang's
Endpaper mitts
. It's sort of my first fair isle project (I've tried fair isle socks before but I failed miserably and frogged). I thought it would be a slow project because of the colour work, but it goes surprisingly quickly.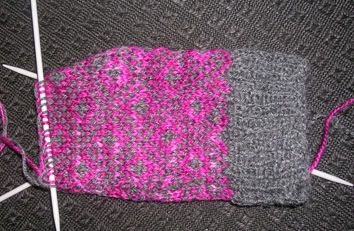 I'm using the leftovers from the Fearless Fibers yarn I used for Roza's socks. I have tons of leftovers, probably enough for another (shorter) pair of socks. But I chose to use it for the mitts instead. The grey is one of the three colours I had used in the failed fair isle socks attempt. I don't remember what brand it is. Patons Kroy maybe?
I love the two colours together.
Also, one of my other projects, the brown striped socks, is coming along nicely. I turned the heel and I'm now at the gusset. I just don't feel like taking a picture.