My SP hostess
Robyn
asked us to post our oldest FO and our newest and to talk about how our knitting has improved between the two.
I therefore present you with : the obligatory first scarf: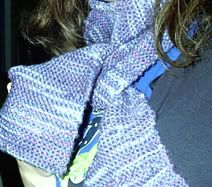 It is:
a)ugly
b)uneven
c)scratchy as hell (I think I chose the scrachiest acrylic ever made for that project)
It is your typical bad first scarf and is uneven because stitches kept adding themselves to my work. I'm glad I took a pic though.
My latest FO is, of course,
Shedir
(click the link to see it.)
It is beautiful and well-made if I do say so myself. I think we can definitely see an improvement. The first one being that I now know good yarn. :)
I bought the Holiday Gifts issue of Interweave Knits yesterday
(see preview here)
and I have just one thing to say : good work! I wasn't too crazy about last year's edition (I didn't even buy it) but this one is great. There are several patterns I'd like to make : the Sweatheart socks, Socks for Véronik, the Twisted Stitch Gauntlets, the Little Gem mitts (LOVE!), the Wisp afghan (without the tassels) and the Fireside stockings (stunning!).
The teddy bear is absolutely adorable. I LOVE the dragon skin wrap (
Do
, if you're having a girl, I'll be knitting this for her!). The Koolhaas hat is great, but it really reminds me of Shedir (esp. since the colour is similar to mine).
Thanks to those of you who have voted in my Baby fever poll (if you haven't voted, see the post just below this one). So far, 75% (i.e. 3 votes ;) ) think I should go ahead and knit baby stuff. One person is superstitious just like me I guess. I may decide to start the alphabet blanket. I have yarn for it. But that probably won't happen until the new year, since I have so many things to finish first. Like my boyfriend's scarf, which I started yesterday. I love the yarn so much I'm thinking of knitting me some underwear with it. I kid, I kid, but it is incredibly soft (it's baby alpaca).