As promised, I finished the leg of the second
Marina Piccola
sock. I even turned the heel.
I'm now confident that I'll finish it before the end of the month for SAM4. Woohoo! So I allowed myself to cast on for my boyfriend's scarf.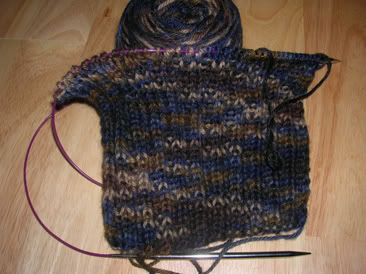 Very simple: CO 48 stitches. Knit in 2X2 rib until you're out of yarn/the scarf is long enough/you're sick of knitting it. I love everything about the yarn (Misti Alpaca). It's soft and the colours are great. The scarf is great for bus/metro knitting too.
So, according to my poll, two posts down, most of you think it's ok to knit baby stuff for your future baby even if you're not pregnant. I'll be honest, I would have knit baby stuff even if the results of the poll had been the opposite. I was just curious. Kate-the-enabler (who, I think, is blogless) commented: "You could always mentally label it 'for me, or for someone else deserving who comes along' - then it's not officially yours" and that's what I had in mind. Knitting baby things = presents for future babies, whether they are mine or not ;)
I'll leave you with a few cute baby patterns that I want to knit:
The Alphabet Blanket
(link goes to a Ravelry page - sorry). The pattern is from The Baby Knits book by Debbie Bliss.
The Pea Pod baby set
by Kate Gilbert.
A cardigan for Merry
, by annypurls (the pattern is free but you will need the Winter 2006 issue of Interweave Knits for the cable chart).
Haiku
by Kristi Porter
Feel free to share your favourites!