I'm a little late with the WIP Report again, but I have a good reason : I wasn't home last night (Sunday) because I was at a Tori Amos show. It was great!
So, the WIPs. I ended up not casting on for the Endpaper mitts yet because I need to learn how to make that Italian tubular cast-on first. I'll probably do that later this week when I have more time.
Instead, I cast on for a new pair of socks. They will be a Christmas present for my mom's boyfriend.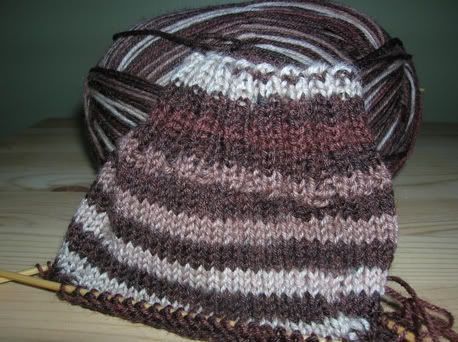 Simple, mindless knitting.
That's pretty much it for the WIPs. I also worked on the two scarves, but there's not enough progress to warrant a pic.
I do, however, have permission from
Robyn
to post a pic of her sock club yarn for October, which I got last week.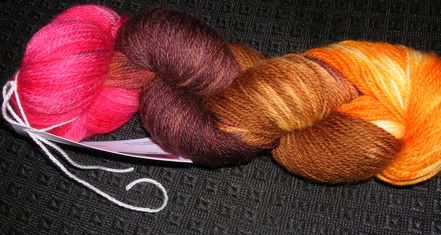 Isn't it pretty? It came with a pattern but I have something else in mind for the yarn. It won't happen for a while though.
Stay tuned a little later this week, when I will share the recipe for a fabulous crust-less apple pie!