If you are going to Rhinebeck this weekend, I AM JEALOUS OF YOU! I've never been and it had never bothered me before, but this year, maybe because I've been spending a lot of time at home, I am itching to go! A road trip sounds so good right now, especially a road trip that involves yarn! Note to my friends: if anyone plans on going again next year and if you have an extra space in your car, think of me! I can't help with the driving, but I can help with the gas paying, that's something!
But this year, I shall be living vicariously through all of you and I can't wait to read your blogs to see what you all got. In the meantime, I am window shopping on various online yarn sites. I'm currently lusting after a skein of Hazel Knits Artisan Sock in
Strawberry Lemonade
. Doesn't it look yummy? But I'm trying to be a good girl and not order. According to Ravelry, I currently have enough sock yarn to make at least 25 pairs. Most knitters would say it's not that much, but it feels like a lot to me. At my current rate of about 5 pairs a year, it would take me... let me count... five years to knit it all! It's crazy when you think about it. So right now, I need to knit more and buy less. At least until Knit Picks' CyberMonday sale (if they have one again this year). I can't promise anything if the Stroll Tonals go on sale.
Speaking of socks and of Stroll Tonal... I finished a pair!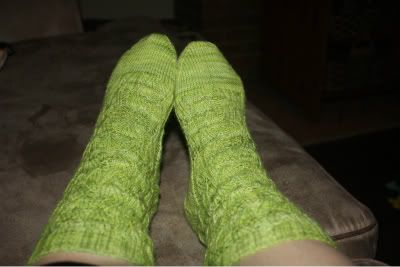 Pattern: Sunshine, by Cookie A
Yarn: Knit Picks Stroll Tonal in Springtime (LOVE!!!)
Needles: 2.75 mm for the leg, 2.25 for the foot
Notes: I must have been drunk when I started the toe decreases on these because I made the foot a bit too short. I can still make them fit, but not as well as my other socks. Oh well.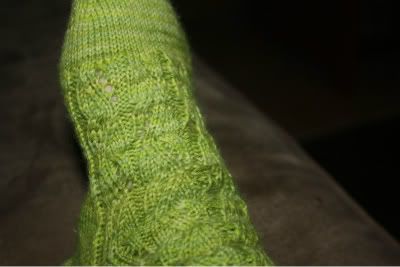 One of the October Sockdown challenges is the knit a holiday stocking and since I wanted to make one for Julien, I didn't hesitate to participate. I'm making
A NEW baby's Christmas Stocking
in Knit Picks Telemark. I hadn't realized the pattern was toe-up when I bought it, but I've been able to figure it all out so far. Here's what it looks like now: