I am definitely out of my knitting funk, thank God! I've actually been knitting quite a bit this past week. I'm starting the new job on Monday and I'll have lots of hours (I'm already scheduled full time next week) so I took advantage of the free time I had this week.
I finished the first Cable Net sock! I'm very happy with how it turned out. I would post a picture but I can't get the details to show well so it just looks like a plain old green sock. I'll try another day when the light is better.
I loved knitting the sock but it was a lot of work. So I'm taking a Cable Net break before I start sock #2. I casted on for Kate Gilbert's
Bird in Hand
mittens. I absolutely LOVE this pattern. It's a pretty quick knit so far and it's just a lot of fun, though I really hated doing the braid. Here's where I am: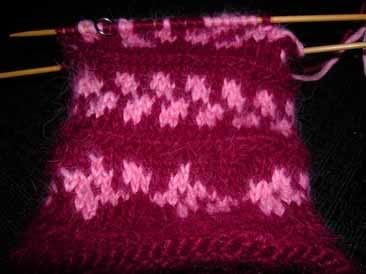 I can't wait till I finish them. I'm pretty sure I'll be able to wear them this year. March may be starting tomorrow, spring is not here yet! They are going to be super comfy and I love the yarn I'm using (Frog Tree Alpaca). So soft!
Knitting these mittens made me want to knit a million more. And Aemmeleia just relased her
Icewine Mittens
as a free download. Coincidence? I don't think so. I love them and I want to make them too!
I've also been slowly working on my Woven Cables scarf. It's going slowly but I still love it. It's a very easy knit, perfect for TV watching.