Every year, I lose a hat. This year, so far, I've been lucky. But I have lost my mittens. My cute and warm pink angora mittens. *cries* I'm not 100% convinced they're totally lost, I think they could still be in the house, but I can't find them.
But just when I thought that I should cast on for a new pair, Knitting Daily releases the
White Witch Mitts pattern
.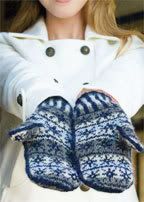 I am totally, 100%, in love and I want a pair NOW.