A few days ago, I received an email from
Veronik
titled "Too much yarn". I was sure it was a joke email... how can someone have too much yarn?
Well some people do! Veronik wanted to get rid of some yarn and she asked if I could help her. Of course I said yes, cause I'm nice like that. It was a difficult task, but I managed to help her with this burden. :P
I stopped by her house yesterday afternoon and I had a lovely time picking yarn with
Angela
. I came home with this:
Yay! Free yarn! My favourite thing is this: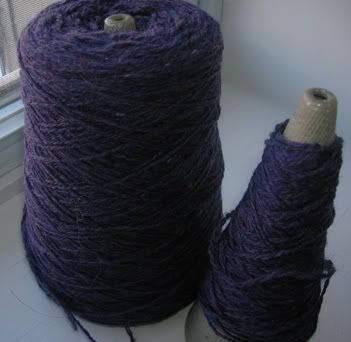 It's 100% wool and it's such a pretty colour. I have enough for a vest and Angela suggested the
Gilmore vest
. I really like it so I think we have a winner. Here's a closeup of the yarn again, just because I like it so much: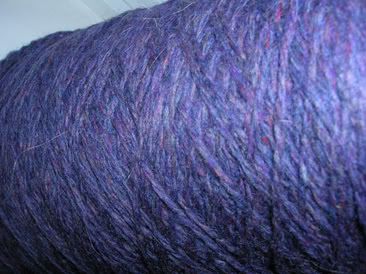 I also got a bag of cotton-linen, that I think is really pretty: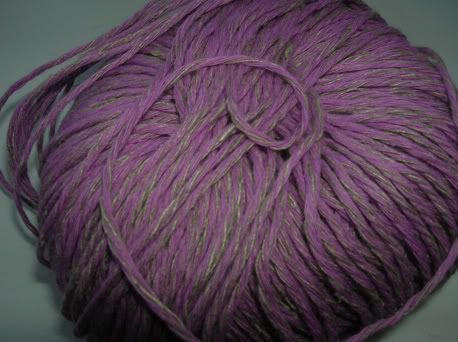 I have nine balls of it, if I remember correctly, but I'm not sure what the yardage is. I'd like to make me a summer top, but I'll have to try to figure out how much there is in one ball first. Or maybe I could make a cute baby outfit. We'll see.
I also have a huge cone of navy wool. I need to find a project for that too. The rest are just pretty balls of yarn that I just had to take home with me. Thank you so much Veronik, you're a very generous person! :)
***
In other (off-topic) news: it looks like I'm going to switch jobs again. I wasn't looking for a new job, but I got an offer that was just too good to refuse! It's going to be great to have more money (I'm still not rich, but I definitely won't have to count every penny anymore).
***
To get back on-topic : I haven't been posting my WIPs lately mostly because I've gotten bored with them. My woven scarf has been put aside, probably until next Fall. I still like it, I just don't feel like knitting a scarf right now.
I'm frustrated with my socks. I've turned the heel and I'm not sure I get the next part. I was probably just tired when I read the instruction and I'll get back to it soon.
I started the Cardigan for Merry but I only have a few rows done. I'll probably post a pic soon.