Receiving a package is always fun, and I got a brand new one from Knitpicks today. Remember my winter blues shopping? You will see that I have been very reasonnable. This is what I ordered: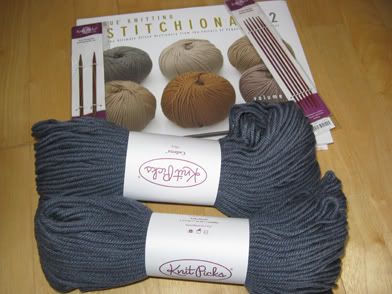 I got new size 7 (4.5mm) tips for my Options set. All my other tips are metal, but I thought I'd try the wood to see if I like it. The colour is funny, but I like them. I also got some wood DPNs (2.25 mm, which is the size I use most of the time for socks).
I also got volume 2 (cables) of Vogue' stitchionary. Just because. (I already had volume 1 btw).
Last, I got two skeins of Cadena, in Mist. I want to use it to make
Bella's mittens
, from the Twilight movie! Because, yes, I too have fallen in love with that story. The books are like crack and I just couldn't stop reading them. I finished the last one, Breaking Dawn, last night and I'm now kind of sad that I don't have any more to read now. But I do love the mittens and I will make them. I will most likely only need one skein, but I didn't want to run out so I ordered two.
That's all for today. Expect a FO post soon (I'm almost done with the
socks
). Toodles!