I scored the first goal of my
hat trick
this afternoon, while watching the Habs play against the Panthers (we're ahead 5-3 right now). I would have finished it last night during the Canada-Russia game (what a game too!), but I didn't have the right DPNs.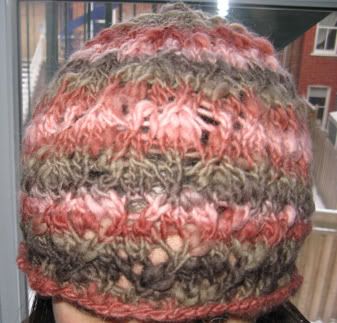 Pattern
:
Madge
by Jillian Moreno
Yarn
: Classic Elite Yarns Desert, colour 2027
Needles
: US9/5.5 mm circulars and DPNs
Modifications
: The hat would have been way way way too short if I had knit it as is. After I finished the 19 rows of the pattern, I knit rows 1-10 again before starting the decreases.
Now I need to decide what my goal #2 will be. Stay tuned!