I'm on vacation!!!! Weeee!!!
I think it's the first time in my life -- ok not in my life but since I've finished school -- that I've taken a week of vacation without having anything planned. My goal this week is to sleep, watch movies, make spaghetti sauce, KNIT... and some snogging with this new boy I've been seeing.
I spent a good part of this evening finishing sock #1 of a pair of Go with the flow (from this summer's IK).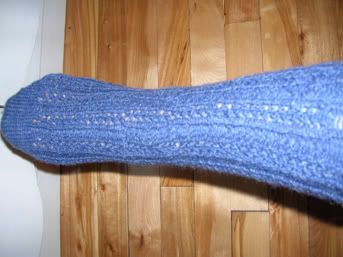 The pair is going to be a Christmas gift. I'm just not sure who's going to get it yet.
Tomorrow = knitting meetup! Yay! And since I'm on vacation, it means I won't have to leave early, woohoo! Hope I'll see some of you there :)