Sometimes I just feel like the luckiest girl in the world.
I had a wonderful year. I realized my dream of getting pregnant and I've had a pretty uneventful pregnancy. Gestational diabetes suck but I'm able to control it pretty well with diet alone so I really can't complain. I'm currently 33 weeks pregnant and I'm not tired of being pregnant yet. I am, however, tired of going to work every morning. Only two weeks left to go!
This morning I went out for breakfast at
Benedicts
, a nice breakfast restaurant (that also has good lunch and dinner options too), in wonderful company (one of my best friends, her boyfriend and their brand new baby boy). And she gave me the most wonderful gift: she asked me to be her baby's godmother. I'm so happy and touched. And her baby is sooo cute!
I'm also lucky to have a great man in my life who is going to be a wonderful father. Now I love him for many reasons, he's smart and funny and sexy and handsome of course. And also, he got me yarn for Christmas!
A little before Christmas, I sent him my
Knit Picks wishlist
and told him if he didn't know what to get me, I'd be happy with anything on it. We didn't talk about it after that.
He ended up giving me earrings for Christmas and I was thrilled (I love them). But then a few days after Christmas, I got a package from KnitPicks! It had four skeins of the yarn pictured above, which is
Imagination
in the Seven Dwarves colourway.
I'm thinking of maybe pairing it with something else to make the
Chevron scarf
. At first I thought a black yarn would work, but then I saw
this version
, which uses the Seven Dwarves paired with another Imagination colourway (Looking glass). I really like it though I'd make mine so the Seven Dwarves is the dominant colour.
Oh and there was something else in the Knit Picks box: a
Knitting Chart Keeper
. I'd had my eyes on it for a while so I was really happy to get it.
But wait, that's not all.
After I had sent him my Knit Picks wishlist, I also sent him links to a few things I liked on Etsy, including a link to
this Etsy shop
. I just LOVE her bags and fell in love with a particular one, but hesitated buying it because I do have a lot of bags.
Well, guess what I got in the mail last week, completely unexpectedly...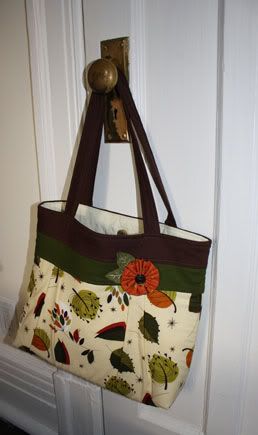 I love it! I'm really spoiled and I know how lucky I am.