I don't have much to report this week, as I've been mostly working on Shedir and the FO has been posted a couple of days ago.
I'm now itching to cast on for my boyfriend's scarf, even though it's going to be a very simple 2X2 rib, for as long as I have yarn. But the yarn! Misti Alpaca. Incredibly soft.
But in order to have something to show for SAM-knitalong in October (since I couldn't finish a pair in September), I must keep on knitting the Marina Piccola socks. Therefore, I promised myself I wouldn't cast on for the scarf until I'm at the heel of the socks. I've made good progress on the leg: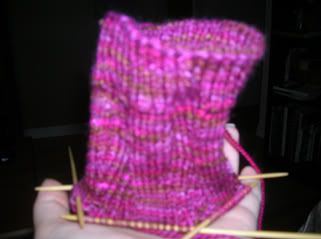 (yeah, blurry, I know)
I'm confident I'll cast on for the scarf by Tuesday.
In other news, I discovered the joy of digital scrapbooking and I've made my first layout, kinda. I'm not talented but I like it anyways. I used an old sad pic of me.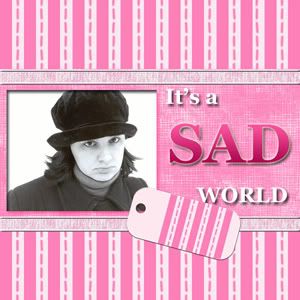 Don't worry, I'm not sad anymore!