I haven't participated to a Secret Pal exchange in a while so I'm very excited to be part of
that one
. Thanks to
Robyn
for her help with my registration.
So, here's the questionnaire:
1. What is/are your favorite yarn/s to knit with? What fibers do you absolutely *not* like?
I love good ol' wool. Of course, I've also enjoyed cashmere the one time I used it ;) Like many people, I don't really care for scratchy acrylic.
2. What do you use to store your needles/hooks in?
Store? ;) Most of my DPNs are in a bag. My straight needles (that I pretty much never use) are in a sort of vase. I use mostly my interchangeable circular sets (Denise and Knitpicks) which are in their own cases.
3. How long have you been knitting & how did you learn? Would you consider your skill level to be beginner, intermediate or advanced?
I've been knitting for a few years now. Maybe three or four? I learned from books and the Internet. I'd say my skills are intermediate.
4. Do you have an Amazon or other online wish list?
I don't! But I recently made a post on
books I'd like to own
(though I can now scratch the Book of finishing techniques from that list since I'll get it from
Mona
tomorrow).

5. What's your favorite scent?
Good question. I don't have a favourite, but I prefer fruity scents to flowery scents.
6. Do you have a sweet tooth? Favorite candy?
Yes, yes, yes. I'm addicted to jujubes and jellybeans. And I love chocolate.

7. What other crafts or Do-It-Yourself things do you like to do? Do you spin?
Knitting is my hobby of choice. I want to learn to crochet someday. I don't spin but I'd like to learn.
8. What kind of music do you like? Can your computer/stereo play MP3s? (if your buddy wants to make you a CD)
I love all kinds of music. Most of my current favourites are French-Canadian artists (you all really should check out Malajube, they're great). I also LOVE Tori Amos, Björk, Fiona Apple and other strong female artists. Other than that, hmmm, let me check my little iPod: Arcade Fire, Arctic Monkeys, Coldplay, Franz Ferdinand, FrouFrou, Beck, Garbage, Green Day, Metric, Mobile, Nirvana, No Doubt, Placebo, Radiohead, R.E.M, The Dresden Dolls, Weezer...
9. What's your favorite color(s)? Any colors you just can't stand?
I love blue, red and pink. I rarely wear green (it doesn't look good on me) and yellow. Except on my feet. Any colour is good there.
10. What is your family situation? Do you have any pets?
I live by myself and will move in with my boyfriend in the summer. Unfortunately, I'm very allergic to most pets so I have none.
11. Do you wear scarves, hats, mittens or ponchos?
Yes, yes, yes and no.
12. What is/are your favorite item/s to knit?
Socks! I also like hats. I'd love to knit more sweaters but my seaming skills leave a lot to be desired.
13. What are you knitting right now?
Socks :) I also just started a hat. I need to block and seam a cardigan. And I have a shawl UFO that I need to get back to.

14. Do you like to receive handmade gifts?
Of course!

15. Do you prefer straight or circular needles? Bamboo, aluminum, plastic?
I much prefer circular needles. I love bamboo but I'm totally in love with my Knitpicks options set.
16. Do you own a yarn winder and/or swift?
Sadly, no. It's on my list of things to get.
17. How old is your oldest UFO?
It's my shawl and I started it in May. Every other object that I haven't finished have been frogged.
18. What is your favorite holiday?
Christmas!

19. Is there anything that you collect?
Sock yarn ;) No, I don't even have that much. I try not to collect things cause I'm a big clutterer.
20. Any books, yarns, needles or patterns out there you are dying to get your hands on? What knitting magazine subscriptions do you have?
I'd like to get old issues of Interweave Knits. My oldest one is from Summer 2004. Patterns? Hmm. I've always wanted to make
Rogue
. I'd like to make
the Simple Knitted Bodice
as well as Flicka and Cherry from
My fashionable Life
. Oh and I also love many patterns from
White Lies Design
. I don't have a subscription to any knitting magazines. And yarn? Oh my. There are MANY brands I'd like to try. I've never used Socks that Rock, Koigu and Lorna's Lace, to name a few.
21. Are there any new techniques you'd like to learn?
I want to try colour work. Actually, I've tried fair isle before but my knitting was too tight. I need to give it another try.
22. Are you a sock knitter? What are your foot measurements?
Yes, I'm a sock knitter. My feet are small, I wear a size 6.5 (that's in Canada, I don't know if it's different from other parts of the world).
23. When is your birthday?
December 3 (I'll turn 30 this year!!!)
****
Robyn
mentionned a tattoo meme on her blog. Here's mine (sorry for the bad quality):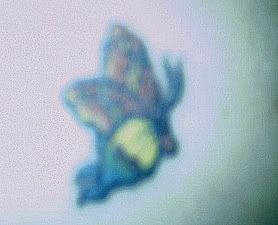 It's on my right shoulder blade. I had it done in 2001. I don't think I'll get a second one but if I did, it would probably be a fleur de lys.