Christmas sock status: DONE and blocking! Woohoo! I can't believe I'm done with the Christmas knitting and I can now knit for ME ME and only ME! Don't get me wrong, I love knitting for other people, but everytime I finish my Christmas knitting, all I want to do is knit for myself. I'll have pics of my mom's socks tomorrow.
So, I did go to the LYS with the boyfriend yesterday. He got something for his grandmother and his aunt. And I got a little something for myself.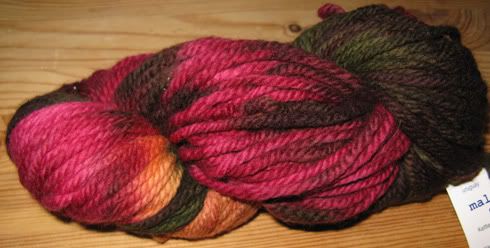 Malabrigo chunky! Yum. I actually fell in love with a neck warmer I saw at the LYS and I just had to make one for me. (Chris liked it too, he bought the same yarn for his grandma). It's the
Herringbone neck warmer
. I cast on for it tonight. I'm in love!
December 21
Pattern
:
Spring Cable
, by Elinore Gray
Today is December 21st, the shortest day of the year. Can you blame me for thinking about spring?
You can find it
completely free,
here
.