I made another Wayna Picchu hat. That one will go to my godson Cristobal. He wasn't available for a picture, so I used my favourite little model.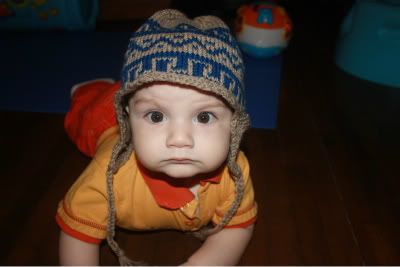 Pattern:
Wayna Picchu Earflap Hat
, by Nichole Reese
Size: M (1-3 years old)
Yarn: Knit Picks Stroll Sport in Mink Heather (MC) and Winter Night (CC)
Needles: US 5 - 3.75 mm circular needles
Mods: I knitted a seed stitch border.
I love that pattern so much. I rarely knit a pattern more than once, but I can see myself making more of these.
I've also been bit by the startitis bug. When the schedule for
Sockdown 5
was posted on Ravelry, I knew I would have to participate this year, after a yearlong hiatus. I miss knitting socks when I go too long without one on the needles.
As usual, the first month's challenge is "knit all in one colour" and this year's colour is Chartreuse. So I went through my stash and found what looked the most like the colour sample that was posted:
KP Stroll Tonal in Springtime. I'm making
Sunshine
, by Cookie A, which also helps fulfilling my quest of knitting as many patterns as possible from her book Sock Innovation (this will be #4!).
Also, Cailyn Meyer is one of the featured designers for the month and I've wanted to knit her
Java Socks
since I first saw them on Knitty. So I'll be casting on soon, using Lulu Yarn's Supersock Merino in Fall Fire. I don't have a pic but you can see some
here
.
Finally, and because I didn't want to knit socks only, I also cast on for a little sweater,
Waffles
, using the Reynolds Soft Sea Wool
I recently bought
.
That's it. Hopefully I'll have new FOs to show soon-ish! Happy knitting people!