After a week off, I'm back with the Weekly WIP Report (after having drank way too much wine. Any spelling mistake must be forgiven. Thanks).
I have made great progress on my two favourite WIPs this week. First,
Isabella
.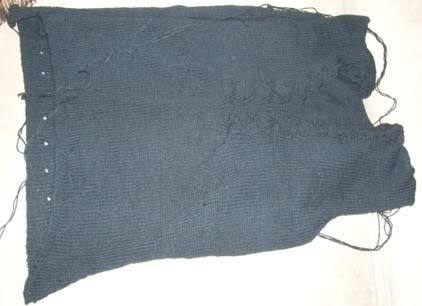 The knitting is done, the shoulder seaming is done and one side seam is done. It looks like it will fit but I'm still unhappy with the seaming. I really need to find a seaming class or teacher because I really suck at it. I still have the picot edging left to do and I'll admit it scares me a little.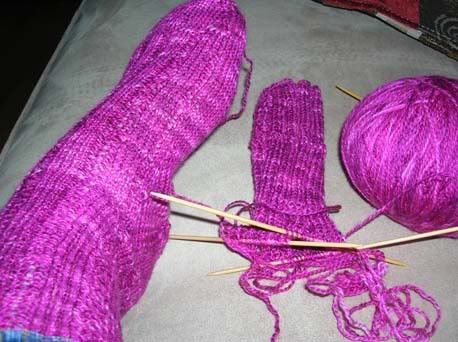 Roza's socks are going fantastically well. I finished sock number one and I'm about midleg on sock #2. The yarn is beautiful and soft and I want to buy many more skeins.
I'll also take this opportunity to admit that I'm totally addicted to Ravelry and that it made me add a million projects to my queue. Like the
Endpaper mitts
. I had seen them before but now I've seen more FOs and I really want to make them, even though my first attempt at fair isle didn't go too well. Also, in an attempt to destash a little, I've added
Coachella
and the
Odessa
hat to my queue. Will they ever make it to my needles, only time will tell.
Now, my goal is to finish both Isabella and Roza's socks this week (hey, it could happen!) and then move on to the Kiri shawl, a shrug and a pair of socks.