This past week was fun because I finally finished Isabella (see last post for pics). That meant I could start a new project. But instead, I decided to work on the Kiri shawl.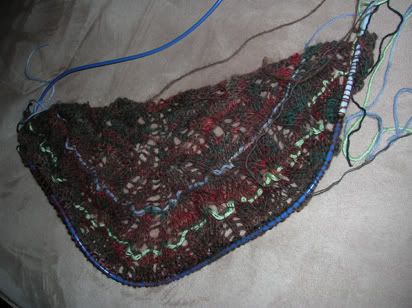 I know this is supposed to be an easy pattern and all, but it's really kicking my ass. I had to frog quite a bit (thank God for lifelines!) when I realized a big boo-boo and now I'm on the fourth pattern repeat. And I keep making mistakes. But I will finish it, I promise.
I've also made quite a bit of progress on the ouch-my-fingers-hurt scarf: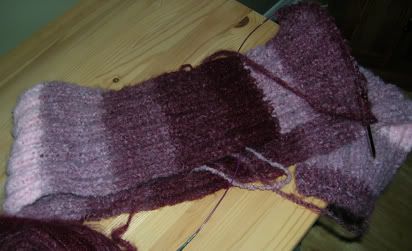 I really like the colour, and even the fabric, but the yarn doesn't feel good in my hands. I think I'm working on it fast because I really want to start the Woven Trellis scarf and I don't want to have too many projects at once.
I didn't work on Roza's socks this past week so I didn't bother taking pics. I'm hoping I'll finally be able to go to a knitting meet-up this Wednesday (I haven't been since April!) and I'll bring them and work on them there.
I may, or may not, cast on for
Coachella
this week...
It seems like the whole knitting blogosphere has been hit by the
Mystery Stole 3
bug. I will admit that I was tempted. But I didn't sign up and now it's too late. I regret it a little when I see all the WIPs on everyone's blog, but I really should try to finish Kiri before I try something like this. There will be a Mystery Stole 4 someday, right?