I finished Isabella! Finally! I only have bad unflattering pics to post because I'm all alone and had to take them myself.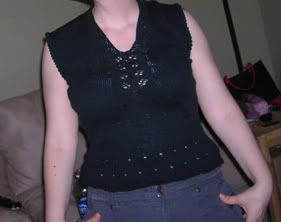 (Now if this picture doesn't convince me to go to the gym tomorrow, I don't know what will)
Specifics:
Pattern:
Isabella from Knitty
, size small
Yarn: Katia Mississippi 3 (not sure how much I used)
Needles: 2.25 mm circulars (and 3.0 mm dpns for the armholes)
I'm not 100% happy with it. It's not flattering. The seaming is so-so. But I'm happy it's finished.
I'm not sure what I'm going to start next. I actually want to work a bit on the Kiri shawl and I want to finish the pink scarf before I cast on for the Woven Trellis one so I may not start anything new for a while. We'll see.
I'm still waiting for my books from Knitpicks (they shipped on the 9th so I think I'll get them soon). But I found Maggie Righetti's Knitting in Plain English at Chapters yesterday and couldn't resist buying it (they usually never have it in stock when I go). I love the book so far.