Before I talk about the great package I received today, I will mention that I got the brand new Harry Potter book and that knitting will probably be set aside for a little while. I promise I won't post any spoiler on this blog, and I hope you guys will do the same.
So now, the gift. I got my last package from my Secret Pal, who happens to be
Melanie
. I am totally in love with everything she sent.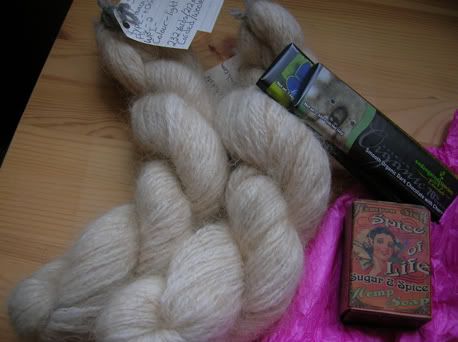 So what you see is yarn, fantastic organic chocolate (I already ate some!) and a fabulous-smelling soap.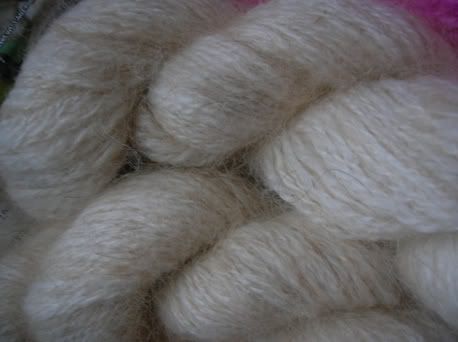 The label says Huacaya Alpaca + Chiengora. Chiengora? Isn't that dog yarn? How cool! The only thing I'm worried about is that I'm allergic to dogs. I've been petting the yarn for a while now and I seem to be ok so I'm assuming either it's not really dog hair or I'm really allergic to dog's saliva and not the hair. Who knows. I have over 460 yards of it and I'd really like to make a shawl. I just need to find the perfect pattern (I accept suggestions).
Anyways. I hadn't planned on signing up for Secret Pal 11, but I just changed my mind. Sign-ups are up until July 31st, so
visit this site
if you want to play!
Oh I almost forgot to mention: I just cast on for another project :
Coachella
. I'll post WIP pics soon.