Pregnancy status: 38 weeks pregnant and I don't think baby is coming soon. I have a feeling it'll be a couple of weeks still. I'm ok with this. I'm not too uncomfortable, I can still sleep and I know my life will change completely once he's here so I'm appreciating these last moments by myself and with Chris.
Thanks to maternity leave, I have plenty of time to knit so I have another FO.
Pattern
:
Munchkin Hat
, by Jeannie Kubricht
Yarn
: Dale of Norway/Dalegarn Baby Ull (it's a fingering weight, I held it doubled).
Needles
: US 8/5 mm DPNs
Notes
: What a quick knit! I knit the whole hat in a day and didn't feel like doing the twisted cord + pompom then so I made them the day after, but I really could have completed the whole project in a day. I wish I had made it longer though. I plan on using the hat for pics only.
Knitting the hat isn't the only thing I did last Sunday. I also went to
Espace Tricot
, a LYS that is pretty close to my house. There, I met with
Tara
, whom I hadn't seen in like a year. It was super nice to see her again, plus she had brought this for me: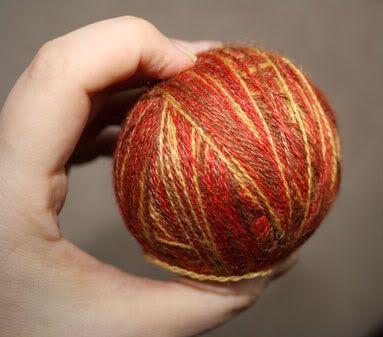 Knit Picks Shimmer in Maple Leaf! You know what that means? I can finally finish...
The Blob! Aka my
Icarus shawl
, that I had set aside after I had ran out of yarn in November. Weeeeee! I'm very happy about that, since I only had a few (long!) rows left. Thank you so much Tara!
Oh yeah, and since I was at Espace Tricot, I just couldn't leave without buying a little something. Other than some DPNs, I left with these: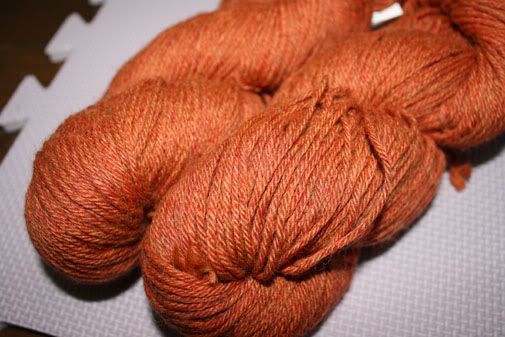 Two skeins of Berroco Vintage. I was actually looking for yarn to make a little newborn sweater. I first picked some Cascade 220 in a cute heathered blue, but then changed my mind and went for the orange. I hesitated, because it's only 40% wool and the rest is acrylic and nylon, but it's super soft and machine washable, so it won in the end.
But then I got home and I realized that I just didn't feel like knitting a baby sweater. Does that make me a bad mom already? Or just a selfish knitter? I just felt like the yarn wanted to be a scarf. So last night I cast on for an
Infinitude scarf
.