So when I uploaded the blog yesterday, I realized that I hadn't posted any FOs since February! Eeek! It sort of inspired me to finish these: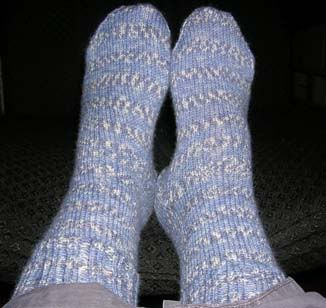 I love new socks!
I'm sure most of you knitters have already looked at the latest issue of Knitty. I gotta say I absolutely adore the little girl cardigan and I like the Hedera socks too.
Oh and if you don't know, the IK summer 2006 projects preview is up
right here
. Now I always prefer Fall and Winter knitting, but I gotta say this summer issue looks promising. Dows anyone know when it's coming out?