Is it... a FO?
Why yes, it is. My first FO since MAY, believe it or not.
Pattern
:
Habitat
, by Jared Flood
Yarn
: Cascade 220 Heathers
Needles
: 5mm / US 8 circulars + dpns
I couldn't believe it when I realized I hadn't finished anything in months. I can explain it of course. I didn't feel like knitting much all summer with the heat and the tirednes of pregnancy. Prior to that, I had been working on a cardigan but I put it aside when I found out I was pregnant. Then there was the shawl aka the blob and we all know what happened with that. I've also been working on a baby blanket that's a bit boring to knit and I started a baby vest for a knitting class but I got sick and missed the last one and never got around to seaming it.
Now for some reason I really want to knit socks. Probably because I've never been this long without knitting a pair. But I do want to work on some baby things. We'll see.
Oh and I have a pic of me actually wearing the hat.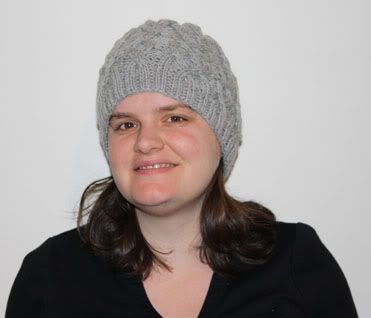 Seeing this pic made me realize just how much weight I've gained in my face. omg! I'm not exactly glowing am I? hehe. And all the pics we took were like that so it's not just one bad pic.
Speaking of pregnancy, I am now 28 weeks! Time is flying! I'll be leaving work on January 28. I have over three weeks of vacation/time owed left so my actual maternity leave won't start until the end of February. I gotta tell you, I'm really looking forward to it!
In not-so-good news, though, I just found out a few days ago that I have gestational diabetes, which sucks big time. I barely failed my test too. The doc told me I should have been under 7.8 and I got 7.9. How fun is this, being diagnosed with this just before the holidays? No bûche de Noël for me!
Stay tuned for my next post as it will contain YARN PORN!