I must be the worst blogger ever! I completely skipped November and haven't posted a thing since mid-October! In my defense, Autumn has been crazy here. My son's been sick on and off with colds and various viruses for the past few months and he completely stopped sleeping through the night. His sleeping habits have gotten worse and worse and let's just say this mommy is exhausted. Things have been rough. But I can't be mad at this face, can I?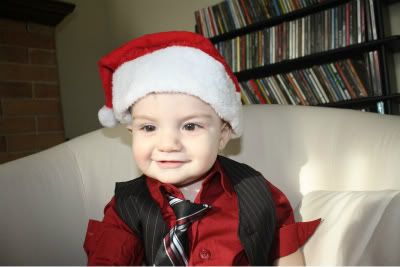 In other news, I finished something. I wanted to make a very special stocking for Julien's first Christmas.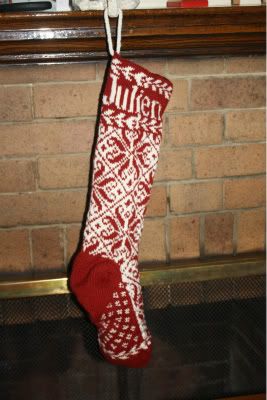 Pattern
:
A New Baby's Christmas Stocking
, by Dorene Delaney Giordano
Yarn
: Knit Picks Telemark in Drift and Bayberry
Needles
: US 2½ - 3.0 mm circulars (magic loop)
Notes
: I love the FO but I really hate knitting toe-ups. I have to get used to it though as I plan to knit two more (one for Chris and one for me) in the future (not for this Christmas though).
In other news, I have to go on a yarn diet. My stash doesn't make me happy anymore. I have enough yarn to last me for years and years and everytime I buy more I feel I should really knit what I have first. I have lots of beautiful yarn and I hate that I'm not using it because I keep buying more. I got two birthday skeins coming in the mail but I'm hoping to stop buying at least until next Fall. We'll see.
That being said, even if I'm not buying, I can't help it if people buy me things. My mom got me a nice little Knit Picks package for my birthday.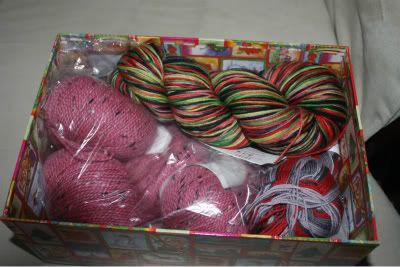 She got me a skein of Stroll Handpainted in Watermelon:
Two skeins of Felici in Firefighter: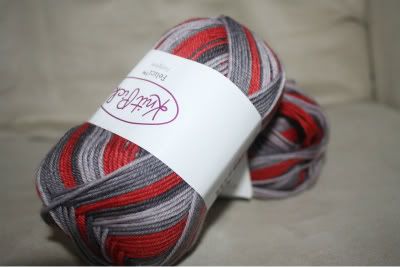 And four skeins of City Tweed DK in Rhubarb:
I had never tried City Tweed and I couldn't believe how soft it is. I always expect tweedy yarns to be a bit rough for some reason, but this is like butter. I really like it.
I also got two circular needles (sizes 0 and 1) and a book, but I'll talk about it more in a future post. Gotta go now!