My friends, I present to you the first FO of 2012.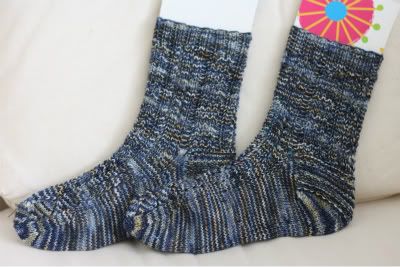 Pattern: Norfolk Ramblers, by Emma Grundy Haigh.
Yarn: Les TricotLores Wool Alpaca
Needles: US1 - 2.25 mm DPNs
Notes: The pattern would have worked better in a solid or semi-solid yarn, but it still goes well with the variegated I had (it looks better in person). I'm really trying to use up some of my variegated yarn whenever I can.
I knit these socks as part of the December Sockdown challenge on Ravelry. I had until January 31st to finish them, but sadly, I finished on... February 1st! One day late! I would have finished them on time if the whole family hadn't been sick this past week. Julien had a cold, he got gastro AND has an ear infection. Then I got gastro and of course Chris got it too. Everyone is healthy right now, finally (though Julien is still on antibiotics for his ear).
Anyways, now that the socks are done, I want to A) Finish a bulky yarn earflap hat I started a while ago B) Cast-on for mittens C) Cast-on for new socks (I'm thinking of going back to Sock Innovation for my next ones, we'll see).